PRECIS WRITING:
Writing a precis means making an intelligent summary of a long passage. To write a precis one should have a clear understanding of the passage: only then well one be able to include all the essential points  and tips and tricks of essay examples in the precis.
Some general considerations :
Learn with shortening in your words, text of written work useful writing tips, essential thoughts, ideas or fact on how to write a precis writing format with preciswritingexamples.wordpress.com.

It is generally accepted that a precis should be a third of the passage given. If the original passage has 300 words, the precis should not be more than 110 words in length.
A precis should be in the language of the precis-writer. The original passage is not to be reduced in length by just removing unimportant or unnecessary sentences and by reproducing the rest as the precis. It should be a brief gist or summary of the passage expressed in the writer's own words.
A precis should be full i.e. it should contain all the essential thoughts, ideas or fact in the original passage. It should not contain repetitions or observations that are not relevant to the main theme of the original.
A precis is always written in

Reported Speech

. The passage given may be a speech made by a person in

Direct Speech

, but the precis is to be in Reported Speech and in the Third Person and in the Past tense.
Techniques of Precis – Writing
There three kinds of work to be done in producing a clear and successful precis. They are (1) Reading, (2) Writing and (3) Revision.
Reading
Read the passage carefully
If one reading is not enough to give you a general idea of its meaning, then read it a second time. As you read, find out the subject or the theme of the passage and what is said about the subject.
It will be a good thing if you find out the lead or the topic sentence. The lead sentence will help you to see the subject clearly. It will also help you to think of a title for the precis example.
Further reading may be necessary at this stage to make sure that the details of the passage are also understood. Read the passage more slowly this time, even sentence by sentence, and make sure that everything in the passage is understood. If this is not done, it is likely that you will miss something important, especially if it is expressed by a short phrase or a single word.
Now comes the process of selection. The writer of the precis writing passages has to decide what facts or ideas in the passage are essential and what are of secondary or no importance. Taking the main ideas of the passages as your point of reference, it should not be too difficult to write out the important points in the original in a corner of your writing work sheet.
Writing
You should first prepare a draft of the precis, keeping in mind, the need to reduce he original to one-third its length. The main thoughts expressed in the passage, the ideas it contains, the opinions presented and the conclusion arrived at should figure in the rough draft. Unimportant things like the names of people and places and dates should not figure in it.
It may so happen that your first draft is too long or that it sounds rather jerky. Shorten it if necessary and write out a careful second draft during college preparation. Sometimes you may need to work out three or even four drafts, but with reasonable care and concentration, you should normally succeed in producing a good precis writing by the second draft.
Remember that a precis or essay is a connected whole and that it should read smoothly and continuously, Get more advice and tips for more study tips for online education sites.
Revisioin
When you have made your second (or final) draft, carefully revise it before writing out the fair copy. Look for many mistakes or slips in grammar or spelling and correct them. Don't forge to give your precis a title for precis writing examples.
Distance education is a boon for those who wish to juggle between work and education. It is also a blessing for those who wish to study but have limited financial resources or face the constraint of long distances. However, not everyone is cut out for this concept as it requires the utmost dedication and sincerity. Some students may thrive on the liberty provided by such distance learning courses, whereas others may find themselves lamenting their decision and questioning themselves why didn't enroll for a regular program instead. The following points will help you understand what you need to be if you want to take admission to a distance education program. Analyze and compare yourself to the following list to decide whether online classes are suitable for you.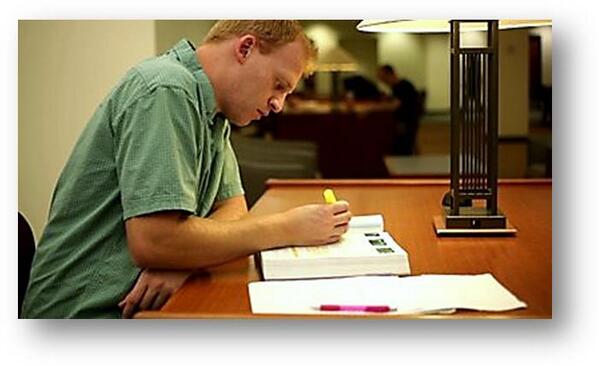 A student of a distance learning program ignores all disturbances and continues to study religiously
1. Students of distance learning programs can perform equally well without regular surveillance and guidance
– While regular students require teachers to keep them inspired, distance learners are able to keep themselves motivated. They understand the fact that they won't come face-to-face with the teachers who give assignments and grade them and yet they are self-motivated and set personal goals.
2. Successful distance learning students won't procrastinate
– You will rarely find the students pursuing these courses delaying assignments for the last minute. They certainly enjoy working at their own speed and studying in the comforts of their homes, but they also realize that putting off work may end up increasing the span of the course and add months to their studies.
3. They have good reading and comprehension skills
– Where most people attain education by attending lectures and taking down notes, distance learners are compelled to learn and master the material just by reading. Even though certain distance learning programs provide audio clips and video recordings, a majority of the courses want that the students to comprehend a large amount of data that is available only via written text. These aspirants can comprehend college level syllabus without the assistance of a teacher.
4. They can resist distractions
– Whether the mobile rings or the neighbors play loud music, distance learners overcome such obstacles and study. They are aware of ways to block out disturbances that can hamper their progress. They are comfortable to turn down an invitation and don't mind when the phone goes to the answering machine. They do what they have to do.
5. Distance learners don't sulk about missing out on the social elements of regular schools
– They do realize that they shall be missing out on the dances, the homecoming game and student elections, but they do not go about complaining. They can convince themselves that this independent journey will be worth it in the end. No matter what age a distance learner is, whether he is a young inexperienced student or a mature adult who isn't interested in fraternity hype, they must remain comfortable with the present status of their situation. Since they can't have classroom discussions, they can look for solution through interaction with peers or co-workers via message boards, email and instant messaging.
Remember that distance education is not for everyone and must not be taken very lightly. At the same time, it may turn out to be an excellent platform for some. Thoseseeking to enroll for some of the most effective and enlightening programs can explore their options with institutes like IGNOU, Amity School of Distance Learning (ASODL) and Symbiosis Center for Distance Learning.
Author bio:
Devika Arora is a prolific writer who compiles relevant facts and analyzes the current state of affairs pertaining to the domain of education. She is currently writing informative articles for the benefit of students. The above article discusses about how to determine whether distance learning is right for you.
best skin care products for women || Faculty of Arts – he Faculty of Humanities, Cultural Studies and Social Sciences
Whether you are a apprentice or a teacher, writing apriorism statements is the lot of difficult allotment of the writing process. Acceptances abnormally accept a difficult time crafting apriorism statements that are not alone concise, but aback an argument. However, writing apriorism statements "and teaching how to address them "does not accept to be difficult. If you chase a few simple steps, you'll accept acceptance creating abundant apriorism statements, and by extension, abundant affidavit in no time. The aboriginal time you do this, you'll apparently wish to airing your acceptance through the accomplished affair in class, but they'll get the adhere of it bound and anon be able to do it on their own.
Active Reading
Many acceptance like to apprehend after accomplishing abundant else. These will not advice them address able apriorism statements. They charge to appoint in alive reading, or account with a purpose.
It helps if they apperceive afore they alpha account that they charge to address a cardboard on this accurate piece. You can as well accord them some examples of things to attending for. Historical context, author's message, style, and appearance development are all abundant ideas. Then, if they are reading, they should accentuate passages that they acquisition absorbing or yield notes.
Brainstorming
Once the acceptance accept completed their alive reading, they should attending at the passages they accent or the addendum they took. They should be able to activate seeing a theme, or something that recurs throughout their notes. This is what they should anticipate about writing their cardboard on. Accept them begin some added account about this topic. The best way to do this is to accept them address down aggregate they can anticipate of about their affair in affiliation to the section they apprehend for 5 minutes, even if they anticipate the account are no good. Then, they'll accept something to plan with.
Ask a Question
After they brainstorm, they should attending at their notes. Accept them address down a few questions about their notes. These should be questions that they can acknowledgment in a accomplished paper, not yes or no questions. Then, accept them accept one catechism they would like to accord with for the absoluteness of their paper.
Answer a Question
Once they accept called a question, they charge to acknowledgment that question. Remind them that there is no one appropriate acknowledgment to any question. Rather, as continued as they can prove that their acknowledgment is correct, it is. Their answers should be in the anatomy of a sentence, and it should be abundantly detailed. This agency that they should abide allurement themselves "why?" and "so what?", until they cannot ask these questions anymore.
This will advice them ability a account that is not alone an argument, but is a circuitous one with abounding facets, which will advice them address a bigger paper. The acknowledgment to the catechism is their apriorism statement.
Collect Details
After they accept crafted their apriorism statements, they should go aback through the section they are writing about to aggregate details. Some of these may be in their notes, but addition attending through the access with a focus can advice them acquisition data they had missed. Accept them address these data down and again compose an outline or a clear organizer of sorts to advice them adapt their paper. They should be able to array data into two or three capital points, and this capital credibility will eventually become their physique paragraphs.
Write!
The final step in the action is for acceptance to address their precis writing. However, this should be simple already they accept done all of this pre-work. Accept them address paragraphs and sentences based on the data they collect, and consistently be abiding they are traveling aback to proving their aphorism throughout the accomplished thesis.